Birthday Carrot Cake is a moist and delicious cake full of antioxidant-rich spices and smothered in a delicious ginger-spiced cream cheese frosting. Perfect for birthday celebrations!
An Evolving Recipe
Carrot cake has been my favorite cake my whole life. Whenever I eat out and it is on the menu, that is what I order. My mom's recipe has always been a favorite. She acquired it from a steakhouse we frequented often in my youth. If you are familiar with many of the recipes from the 60s, you know that the ingredients list is not the healthiest. Do they even sell margarine anymore? Let's just say I have adapted my mom's recipe a bit to fit my tastes and health preferences by adding fresh ginger to the frosting, substituting Sucanant unprocessed sugar for the white sugar, and eliminating a cup of oil by using buttermilk instead.
Fortunately, my mom's recipe didn't involve raisins because I still can't do raisins for the life of me. Maybe it is a texture thing. Hey, if you can do it, go for it. Raisins will add sweetness, fiber, and texture but to me, they are just a distraction from the spicy cake and cream cheese frosting.
Cream Cheese Frosting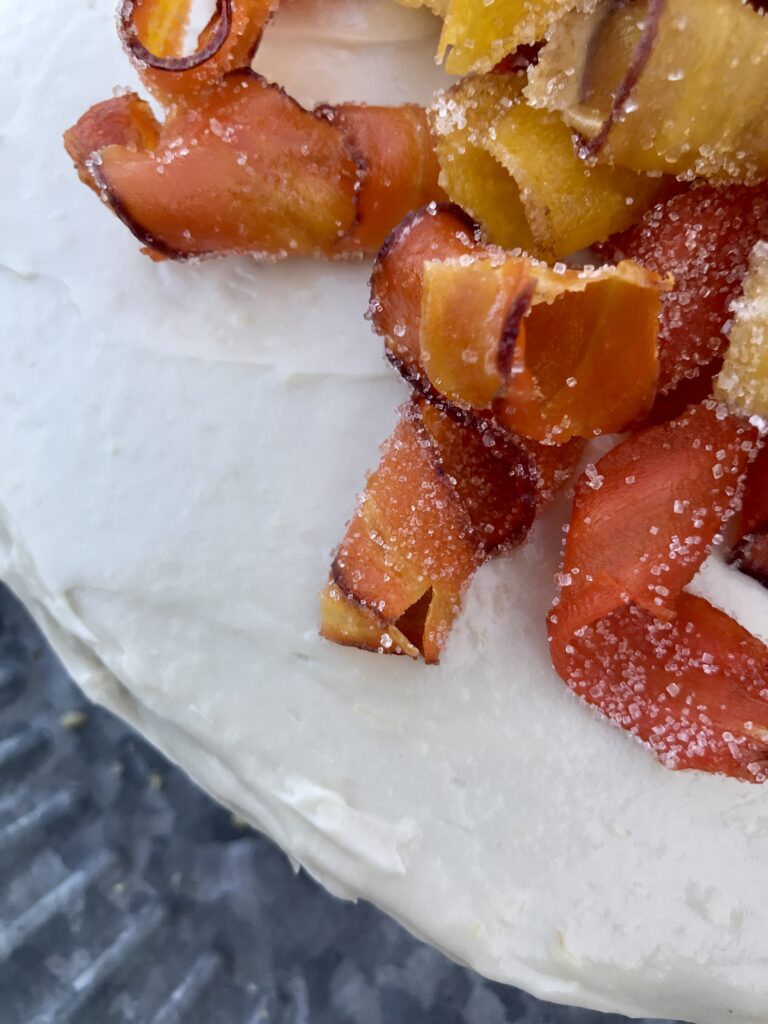 We all know that the reason people love carrot cake is because of the cream cheese frosting, right? Unfortunately, cream cheese frosting is loaded with powdered sugar. The frosting on my Hit-the-Spot-Healthy Spiced Carrot Cake is made with maple syrup, which is why I eat that throughout the year when I have a hankering for carrot cake. But…when it is birthday time, I want to go all out and there is no better way to do cream cheese frosting than with powdered sugar. True, it is sweet, almost too sweet, but with the addition of fresh grated ginger, it balances out that sweetness with a little kick of spice. Play around with the sweetness level. Personally, I only use three cups, which makes it a little more creamy and less sweet. If you want a stiffer or sweeter frosting, then go ahead and add the additional cup of powdered sugar.
Yield: 16 slices
Birthday Carrot Cake
Birthday Carrot Cake is a moist and delicious cake full of antioxidant-rich spices and smothered in a delicious ginger-spiced cream cheese frosting. Perfect for birthday celebrations!
Ingredients
For the cake:
2 cups finely shredded carrots (you don't want to use the big shred otherwise you have a crunchy carrot salad for a cake.)
1 cup canned, crushed pineapple in juice (if you can't have pineapple, then just add an additional cup of shredded carrots.)
1 1/2 cups Sucanant, Rapadura, Maple Sugar or Coconut Sugar (natural, unprocessed sugar)
1/2 cup avocado oil
4 eggs
3/4 cup buttermilk or (3/4 cup whole milk with 1 tsp. lemon juice set for 10 minutes until thickened).
2 tsp pure vanilla extract
2 cups Einkorn flour or all-purpose flour
1 T cinnamon
1 tsp. fresh grated nutmeg
1 tsp. powdered ginger
1/2 tsp. ground cloves
1/2 tsp. cardamom
1/4 tsp. allspice
2 tsp. baking powder
2 tsp. baking soda
1/2 tsp sea salt
1 cup chopped walnuts, plus more for garnishing cake if desired
For the frosting:
2— 8oz. packages cream cheese
1/2 cup softened butter
3-4 cups powdered sugar (depending on your sweetness level)
1 tsp. vanilla
1 T. grated fresh ginger (grated on a microplane)
1/2 cup chopped walnuts for garnish (optional for decoration not in the frosting)
candied carrot curls (see recipe)
Instructions
Preheat oven to 325°
Spray 2 — 9" round cake pans and line the bottom with parchment paper (trace bottom of pan and cut out).
In your standing or hand mixer, combine sugar, oil, eggs, buttermilk, and vanilla until combined
Add flour, spices, baking soda, and salt until combined
Next, fold in the carrots, nuts, and pineapple (if using) until evenly distributed
Pour batter equally into each pan and bake for 45-50 minutes until a toothpick inserted comes out clean
Allow to cool completely before frosting
For the frosting:
Bring cream cheese and butter to room temperature
Mix on medium high speed until fully combined about 2 minutes
Add in powdered sugar 1/2 cup at a time until combined
Finally, add in the vanilla and fresh ginger and mix until incorporated
When the cake has fully cooled, remove the parchment paper and frost paper side up. Place the other round on top of the frosted middle, paper side up (this gives you a level top to frost.)
Frost entire cake and decorate with fresh flowers or candied carrot curls
Decorating with Candied Carrot Curls
When it comes to my birthday cake, obviously I am not going for a cake centered around a Star Wars, Safari, or Pirate theme as I like to do for the kids. Understandably, I want something more beautiful involving fresh flowers or fruit. My 15-year-old daughter, Shanna, is our baker. Fortunately, my birthday cake is her gift to me; she bakes and decorates it herself. It is awesome when your children grow up and can bake more than mud pies.
This year, I decided to go with candied carrot curls to accent my favorite carrot cake. They are so fun to make, a delicious addition, and their colors are stunning on top of the cake. I found the recipe for Candied Carrots over at Niki Medlin's blog, Artzy Foodie. Have fun with it. This is a birthday celebration afterall.
But What If it's Not My Birthday?
Birthday Carrot Cake for me is for special occasions. Typically, I don't eat a lot of sugar, but I don't believe in spending my life in a deprivation mode either. Life is meant to be celebrated…it just doesn't need to involve excessive amounts of processed sugar every day. If you are looking for a more "every day," healthy, and gluten-free version, check out my post on Hit-the-Spot-Healthy Spiced Carrot Cake. In addition to being healthy, you will be amazed at how tasty it is without all the sugar and white flour. Surprisingly, it is made with maple syrup, coconut flour, and lots of spices. Truthfully, both of these cake recipes are phenomenal, but if I am having a birthday and want something extra special, I go for my Birthday Carrot Cake.
Check Out These Other Related Posts: