Hello, My Name is Rebecca
Welcome to my home! I am so glad you stopped in for a visit. I hope we can become good friends. The world needs good friends. Take a look around and let's get to know each other. As women, I know we have a lot we can share. We don't need to compete. We complete. Each of us has a beautiful gift to offer to the world around us. I hope to help you better discover that gift. I believe that "the glory of God is man fully alive", as John Eldredge from Wild at Heart puts it. Are you living fully alive? I am not only going after all God has for me in life, but I want to bring others along with me on the journey to wholeness, transformation, and ultimately… JOY.
I hope through pictures and through words I might introduce myself, why I started my blog, and what I hope to impart to you through it. There are many hats I wear, but underneath them all, I am just Rebecca. First and foremost, I am a Christian – a loved daughter of the King of all kings, Jesus, and I love to build and influence His kingdom. I am a wife to Troy, mother of 6, homeschool mom of 20 years, friend, daughter, herbalist in training, homesteader wannabe, and author.
In fact, I have recently published, in partnership with James Baker and Wealth with God, a family discipleship curriculum called Wealth with God for Kids to go along with the adult course on Kingdom Wealth Building. I also wrote and published a book called Water Walkers about my family's journey out of religion and into the heart of the Father. It is about confronting mediocrity and stepping out into your destiny.
California Girl at Heart
I grew up in California, a land of hedonistic pleasure, where the people know how to celebrate and enJOY life. I call myself a sanctified healthy hedonist. I admit it…I am a pleasure seeker. I am a California girl at heart, after all. You can take the girl out of California, but you can't take the California out of the girl. I have learned how to live in abundance and how to live in lack… and still keep my joy. Joy is a fruit of the Spirit evidenced in a reborn heart. Joy doesn't come from seeking pleasure. True pleasure only exists in the presence of God. Psalm 16:11 says, "You will show me the path of life; In Your presence is fullness of joy; At Your right hand are pleasures forevermore."
From His presence, I am overwhelmed with gratitude for His goodness that flows out of my heart through celebration. I can't help but want to celebrate everything in life, because it is just an expression of the joy I feel inside. Now, I am not talking about your typical definition of joy expressed with "a deep, quiet inner gladness", but rather, a biblical definition of joy, like King David had, that makes me want to dance before my King.
Celebrating life and enjoying all of God's goodness is how I dance before Him. Celebration is a way of expressing the overflow of gratitude, and gratitude is the pathway to joy. Joy is what seasons everything in my life because it flows through a heart that is truly grateful to God for this beautiful life I get to live. All pleasure and celebration exist in and through Him alone.
On the Move…
California has beautiful weather, pretty much year-round, depending on where you live, but I wanted to live in a place where there was snow and four distinct seasons. My husband and I moved to the East Coast to finish his last year of seminary in Nyack, New York (25 minutes from NYC). I began my married life watching sailboats float down the Hudson River from our third story corner dorm apartment. Not bad. I finally began checking off my list of dreams: Christmas in NYC, lobster in Maine, and riding a train into Boston (just a few for this West Coast girl).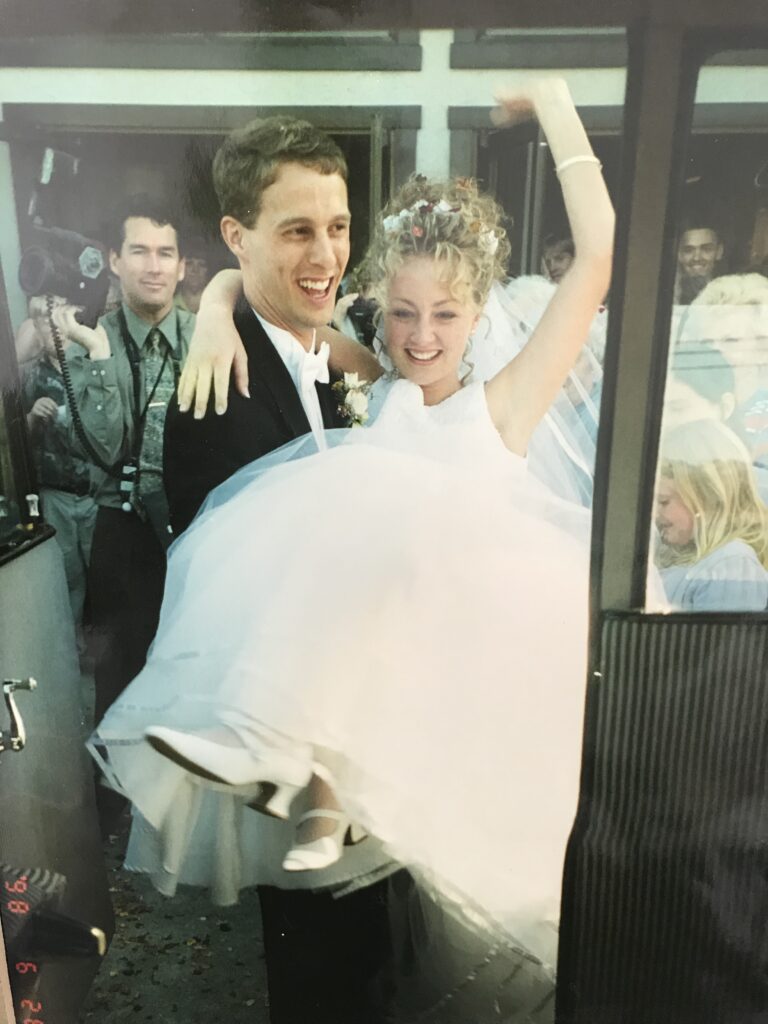 I wish I could say we began our life in marital bliss, but for this couple, we began our healing journey when we said I Do. And we did…heal. We are healing. Life is just a beautiful discovery of the many facets of God, His great love for us, and His amazing gift of redemption through Jesus.
From there we went on to pastor a church in New Jersey, where the seasons were perfect. We spent ten happy years of our lives there and then God gave us a van and camper to tour the country for two years. You can read about that in my book Water Walkers. Also feel free to check out my book release party, and peruse the cross-country pictures in my post Water Walker's Journey: Life on the Road.
We landed in South Carolina for four years and then back up to New Jersey for another five years. God called us to the South again, this time to Tennessee, where I think we are putting our roots down. I do miss the coastline and there is simply not enough snow for this northern girl, but I know God has something wonderful for us here, and I am excited to discover and make new memories in our new home.
What I Love About the Seasons
I love living by the seasons because there is always something exciting to look forward to just around the corner: daffodils and dogwood blossoms and their symphony of color in the spring; sun-ripened boysenberries, fireflies, and dinner picnics on the beach in the summertime; apples, pumpkins and hillsides of colored splendor in the fall; warm spices, silent snowfalls, cozy fires and candles in the windows in winter. I fill our calendar with traditions that embrace each season. Nowadays, you can get strawberries year-round, but there is nothing like fresh-picked strawberries, and even better when they are made into a delicious strawberry shortcake.
I also realized as I became a mother, six times, that there were seasons to our lives, and that life is not a balancing act, but rather an act of living in the present moment. We were not created to do it all, all of the time. We need to learn to rest and be kind to ourselves. That is why I love the seasons. If we follow nature's ebbs and flows, stages of rest and rebirth, we too will learn to not just survive, but thrive. After all, nature does not live in balance. In the spring it is wild with new life and in the fall, it settles down preparing for rest. That is not balance. That is presence.
It's Not Just About the Recipes
When I post a recipe, feel free to make it your own. Experiment. Make substitutions. Have fun. Play around with flavors or ideas. I have been known to veer off a recipe and add a little of this and a little of that to make something just the way I like it. I love the challenge of taking a recipe and making it healthier, yet not sacrificing the yum factor. Making adjustments is how you learn to become a better cook. Where possible, I will offer substitutions such as milk vs. nut milk, meat or veggie forward. I glean my recipes from many sources and make them my own. Don't ever let a recipe turn you off because it doesn't follow your dietary guidelines. Just adjust it. You may find a new favorite. Be open-minded. For example, I found a recipe for a gluten-free pumpkin chocolate bread. I am not gluten-free, but I was curious about a healthier version of chocolate cake. I tried it, made a few tweaks, and now my Chocolate Pumpkin Bundt Cake is my absolute favorite chocolate cake…birthday cake worthy!
If I feel there is someone who can do a specific recipe better than me or explain it more thoroughly, I will direct you their way. I was not trained as a chef after all. I have just had years of on the job training in my own kitchen learning just like you. There are some amazing people who specialize in things such as Kombucha or Sourdough, or can rock a killer Chinese Dumpling from Scratch. I don't need to reinvent the wheel. I have spent years gleaning from many wonderful sources who have helped me become the woman I am today. Why repeat something that has already been done well? Like I said before, we don't need to compete, we complete.
What It's Really About
This blog is not so much about the recipes as it is about inspiring you towards a holistic approach to life. What we eat, how we play, who and how we love…these all play into who we become. We are holistic beings and one area affects the other. Learning how to eat healthy, seasonal foods (with those occasional splurges), taking the time to rest, play, and celebrate those present moments, as well as growing in your love for God, yourself, your family, and others, will help you embrace the joy that can be found in every situation. Get rid of those things in life that don't serve you, or as Marie Kondo so eloquently puts it, "spark joy". Stop and smell the roses. Live your ordinary life, day by day, in an extraordinary way.
I hope you are okay with imperfect. I am. I am not out there to promote the ideal home. I don't know anyone who has that. I love my family and we are all working on finding that place of wholeness and freedom that allows joy to manifest no matter what is going on around us. We also like to have fun in the process and celebrate our amazing life. It is time to turn the tides and sail a different journey towards authenticity, acceptance, and of course, JOY. Now that I have introduced Seasoned with Joy, and hopefully cast a vision, the following is the dirt, the "real" and "uncensored" Rebecca, and those who celebrate life with me.
My Tribe
Troy, my husband, the man of my dreams, and my rock, is a relentless pursuer of the deeper life. Smart is the new sexy. He is a homestead chicken expert and all-around funny guy. His self-claim to fame is being the more "logical" of the two of us (no comment). For over 24 years he has been known as Pastor Troy, or PT, and we loved serving together in healing ministry. Right now, we are in the marketplace bringing His truth to wherever the people are. We have six amazing children, our "Brady Bunch" (3 girls and 3 boys). They are all artists in their own right with incredible destinies to pursue. They are my favorite people alive and my inspiration…obviously. And last but not least, my friends. They are the family I have chosen and the ones who keep me young and laughing… because I dearly love to laugh.
What I Would Do If I Were Not Busy Being Superwoman
If my house could clean itself, my children educate themselves, and my husband learn to cook more than pancakes, I would totally be an actress and in a role where I had to learn to sing and dance. I would love to be dressed in fabulous costumes and have people doing my hair and makeup all day. How fun to be paid to learn amazing things, in amazing places, with amazing people. Dream roles: Joe in Little Women, Donna in Mamma Mia, Lizzy in Pride and Prejudice, Mia in La La Land, or Mary Crawley in Downton Abbey. An honorable mention (only because it was a male role) would, of course, be P.T. Barnum in The Greatest Showman. The opening scene with the music, "WOAH!", and the stomp of the feet on the bleachers…I literally hold my breath in excitement. I so want to do that scene…and I want the hat, jacket, and cane too.
Truth be told…I actually think my greatest role is Superwoman, because although it feels at times that anyone can cook, clean, or educate my children, there is only one mom for them, and I wouldn't want to miss a second of their lives. I will have to save my Ringmasters costume for another day. Right now, in my own circus, I wear a cape.
Things I Am Known For
Celebrations and making things fun and special, living intentionally, "organic" and "healthy", wisdom, a mother's heart, organization, details, Peace and Joy, Hygge, herbalism and making my own home remedies and body care products, a cozy and beautiful home in every season, taking pictures and creating picture albums, "Kondo ing"-I am not a saver, rocking out to 80's music with my thumb microphone and air guitar (sorry about the Footloose episode Ash – I hate it when I am so much cooler in my head than in real life), tea and biscotti, laughing too loud in a movie theatre, and being a wealth of information…(which is not the same as being a know-it-all.)
Things I Am Not Known For
Saying anything in a few words (why use 10 words when you can use 100?), chaos, small talk, processed or fast food, geography (that is a loaded subject), beautiful pies…yummy, just not beautiful, swimming in the "sharks' house", and using a port-a-potty. I just won't do it. Period.
Things That Light Me Up (there is so much…I think I am always pretty lit)
The presence of God and presents from God, my husband (especially when I catch him admiring me unexpectedly), "nuggle" times and dates with my children, vision planning and dreaming with God, a clean house, that "lightbulb" moment when people get a revelation of the extravagant love of God and His amazing Kingdom and they exchange lies for the truth, funny people, laughing!!!, playing dress-up, traveling to beautiful places, tasting something so amazing that it awakens the tear ducts and heaven invades earth as angels sing, bouquets of herbal flowers from my garden in small white pitchers, farmers' markets, firefly's in the summertime, glowing candles, a warm cozy fire, pumpkins and apples in the fall, an afternoon to myself at home, feet pajamas (on the children, not me), Christmastime, snow…especially the sound when it falls or the crunch under my feat, clean lavender scented sheets, a Jeep Wrangler with my favorite driving playlist, the Blue Angels, camping—so long as I have my own toilet, my favorite perfume, sassy earrings, cowgirl boots and heels, spa days, soup on the stove, bread in the oven, and fun things scheduled on the calendar with my husband and best friends.
Favorites
Books
Hidden Hand by E.D.E.N. Southworth, Nourished by Lia Huber, Bread & Wine by Shauna Niequist, Redeeming Love by Francine Rivers, Mandy by Julie Andrews, Where the Crawdads Sing by Delia Owens, the Bible…duh, and all Chris Van Dusen, Kobi Yamada/ Charles Santoso, & Jennifer Black Reinhardt books (I love children's books). I am an avid reader, but am usually filling my time with books on Kingdom living, marriage, parenting, DIY, cooking, or herbalism…rarely just a pleasure read except when I have a child on my lap.
Movies
A movie has to have characters that move me and get inside my head and heart, take me to a beautiful place or time, or else really make me laugh or cry. So, if I had to choose, then Little Women, Anne of Green Gables, About Time, 100 Foot Journey, Frozen I&II (so prophetic), Dead Poet's Society, Far From the Madding Crowd, The Greatest Showman, The Chosen, Downton Abbey, and Sherlock Holmes BBC are my top favs.
Favorite Songs/Artists
Sorry, no such thing. The list of music I don't like would be shorter. Music is just the soundtrack to life and there are different soundtracks for every activity. For instance: Chris Botti, Michael Bublé, Andrea Bocelli, Melody Gardot, or Diana Krall are perfect for cooking dinner. Scala and Kolacny or Libera are favorites in the fall and into Christmas, Bethel Worship I take with me on my walks, and we have already established my Lip-synch career to 80's music. Then, of course, there is the soundtrack that comes out when I am driving all by myself— yes, true freedom—that's the jeep soundtrack… but that is privileged information.
Favorite Foods
I love lots of fresh veggies, soup and salad, sauces (don't they just take things up a notch?), cozy, hot drinks like hot chocolate or golden milk, refreshing herbal shrubs and Kombucha, sushi, spicy ethnic food, especially Thai and Indian, and I have a weakness for tea and chocolate almond biscotti in the morning (before the kids wake up) and homemade hot fudge sundaes (when the kids go to bed). I love my mom's cooking and eating at my best friend Kelli's house.
Favorite Places
There is no place like home, but I love traveling to beautiful places, especially Maine. My bucket list is long. Watch out world… Here I come.