When days grow long, and warm evenings draw us outdoors, there is no better way to keep the conversation rolling than with dessert made from summer's bounty. Blueberry & Peach Galette is the perfect marriage of sweet and tart with a dash of cinnamon. Galettes are easy to prepare without all the fuss of a pie pan. For those of you who struggle with baking pies, try making a Galette and celebrate its rustic nature and appearance.
I have a confession to make. For the life of me, I can't seem to make a beautiful pie. In fact, one Thanksgiving I literally threw away two pie crusts before I finally was able to patch together what resembled a pie crust in the pan for my pumpkin pie. Ugh! I can't tell you how frustrated it makes me. My best friend makes the most beautiful pies. In fact, my grandma and my mom also make beautiful pies. Unfortunately, I guess I didn't inherit the beautiful pie gene.
I was dismayed until I discovered the Galette. I am convinced they were created by another poor soul who did not inherit the beautiful pie gene. Galettes are literally pies without a pie pan. In English, it is translated as "little cake." Why does that get me so excited? Because my problem has always been getting the pie crust from the counter to the pan in one piece. Now I can just roll out my dough on parchment paper and envelop my filling with the crust. My pies are never beautiful to begin with, but now I have a fancy name for my disheveled-looking pies…Galette's.
The wonderful thing about Galettes is that they can be prepared using a simple pie crust or in a pinch, whipped up using puffed pastry dough found in the freezer section of the grocery store. Either way, they are both delicious and both are fantastic ways to present the beautiful summer bounty of peaches and blueberries in this Blueberry & Peach Galette.
Summer Produce
Where I live, peaches and blueberries are just beginning to peak around my anniversary at the end of June. I associate Galettes with my anniversary ever since we came home from a beautiful day out exploring Nashville when we stopped at a roadside stand to purchase a quart of fresh Georgia peaches. The children had collected blueberries from the neighbor's bushes that day (with permission of course), so I decided to whip us up a Galette for our anniversary dessert. Maybe I was just twitterpated from spending the day with my favorite guy, but coming home to prepare a homemade treat was just so romantic. Especially with Chris Botti playing in the background.
Yield: serves 8
Blueberry & Peach Galette
Ingredients
5 large, ripe peaches, or 4 cups (peeled and sliced)
1/2 cup fresh blueberries
2 T lime juice (tossed in with the sliced peaches to prevent browning)
1/3 cup sugar (I use Sucanant unprocessed sugar)
2 tsp cinnamon
1 tsp. vanilla extract
2 T all-purpose flour (thickener)
1/8 tsp sea salt
For the Crust:
1 & 1/2 cups all-purpose flour
2 T sugar
1 & 1/2 sticks (12 tablespoons) cold, unsalted butter, cut into pats
1/4 cup ice water
Instructions
Preheat oven to 350° F
In a food processor, process the flour, salt, and sugar until blended
Add cold butter and process until it is the size of peas
Add the ice water and gently pulse until dough is evenly moistened but not in a ball
Transfer dough to a floured parchment sheet and carerfully flatten into a disk with your fingers
Cover the disk with the parchment paper and place in the refrigerator for 30 minutes
Meanwhile, in a medium bowl, toss the sliced peaches with the lime juice to prevent browning.
Add the remaining ingredients and stir until evenly combined
Remove the dough from the refrigerator and roll out on a floured, parchment lined sheet into a 12" round
Place the parchement paper and pastry on a baking sheet and mound the filling in the center of the dough, leaving a 2" border all around
Enfold the fruit filling with the sides of the pastry, leaving the center exposed
Place sheet in the refrigerator to set for another 30 minutes
Brush the dough with the cream and sprinkle with sugar
Bake for 50-60 minutes until crust is golden brown and filling is bubbling
Allow to cool for at least 15 minutes to set before serving
Slice into 8 servings and serve with vanilla ice cream
PUFFED PASTRY NOTE: if using puffed pastry crust, allow the dough to thaw while you prepare the filling. Once thawed, roll out into an 11x11 sqare. Mound the filling in the center and fold over the edges leaving the center exposed. Add a pat of butter on top of the fruit. Brush with cream and sprinkle with sugar. Bake at 425° for 15 minutes until crust is golden and peaches are bubbling.
Using Puffed Pastry Dough
I feel like a total cheater when using puffed pastry dough. But oh, is it delicious and super easy. Set the pastry dough out on the counter to thaw a bit while you prepare the filling. Roll it out into a perfect 11X11 square (no, I don't measure). Place the filling in the center of your dough and gently fold the dough over the filling leaving the center exposed. Add a pat of butter to the center. Baste pastry with cream using a pastry brush and sprinkle with granulated sugar. It doesn't have to be perfect, that's the beauty of it. In fact, it will look more authentic and rustic the more imperfect it is. Note the baking time difference with puffed pastry and pie dough. The puffed pastry bakes faster at only 15 minutes compared to 50 with the pie crust.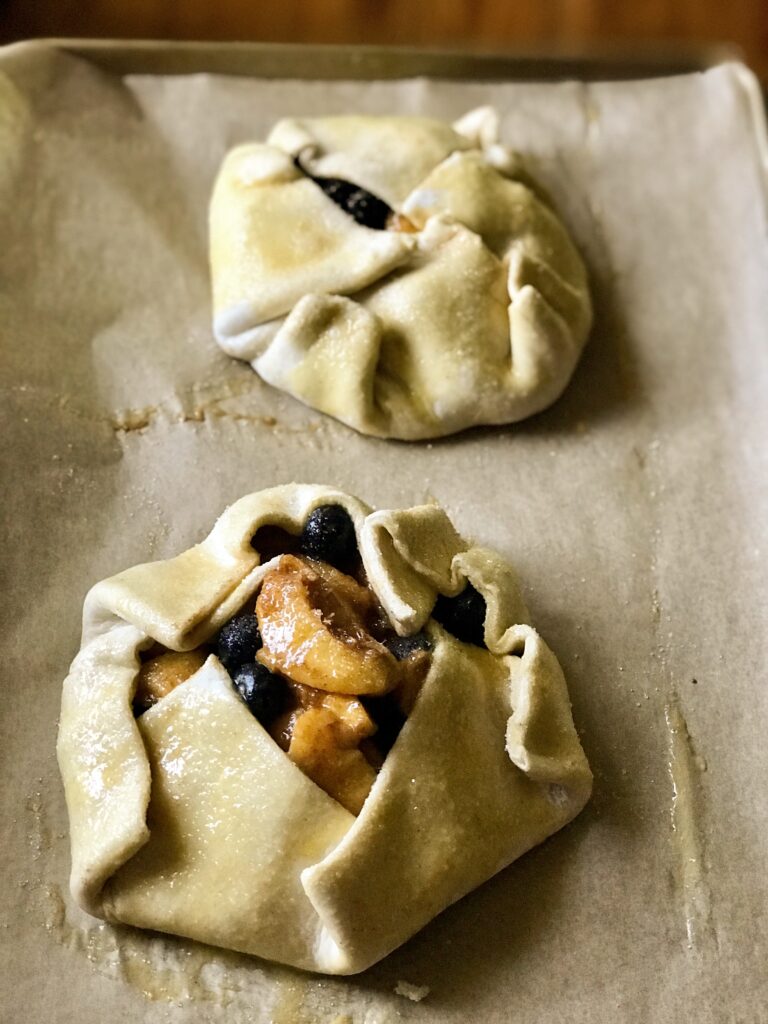 Using Pie Pastry Dough:
As much as I love the simplicity of puffed pastry dough, I do prefer the taste and look of a Galette surrounded by pie pastry dough. Plus, I love that I am actually making a pie crust and it is turning out exactly the way I want it. There is nothing more rustic to me than homemade pie and nothing that says welcome home more than the smell of pie baking in the oven. There is a pie for all seasons and each anchors me to beautiful seasonal memories I have collected over a lifetime. Someday, I would love to get one of those antique pie cabinets they used to place warm pies to protect them from bugs and curious fingers while they cool. Can't get any more farmhouse than that.
Serve Blueberry & Peach Galette a la mode:
You must serve this with a generous scoop of Homemade Vanilla Ice Cream. DELICIOUS!
Autumn Apple Variation
When September rolls around I am instantly in the mood for fall and baking with apples. This recipe is so wonderful because the filling can vary with the changing seasons. Ultimately, if you are in the mood for cinnamon-scented apples, swap out the peaches and blueberries for apples instead. Once you have your apple filling prepared, follow the recipe as you would for the peach and blueberry galette. EnJOY!
1 & 3/4 lbs baking apples (about 3 large Honeycrisp, Gravenstein, Granny Smith, Jonagold, Fuji, or Golden Delicious). Peel, core, and slice apples 1/8-inch thick. You should have about 4 cups.
Juice of 1/2 lemon to prevent browning
1/3 cup sugar (I prefer Sucanant or Panela unrefined sugar)
1 tsp vanilla
2 tsp cinnamon, apple pie spice, or pumpkin pie spice
2 T unsalted butter, melted
1/8 tsp. sea salt
Pin for Later:
Check Out These Related Posts: