Why serve regular dinner rolls at your next family gathering, when you can bake Prophetic Dinner Rolls and go from ordinary to…extraordinary?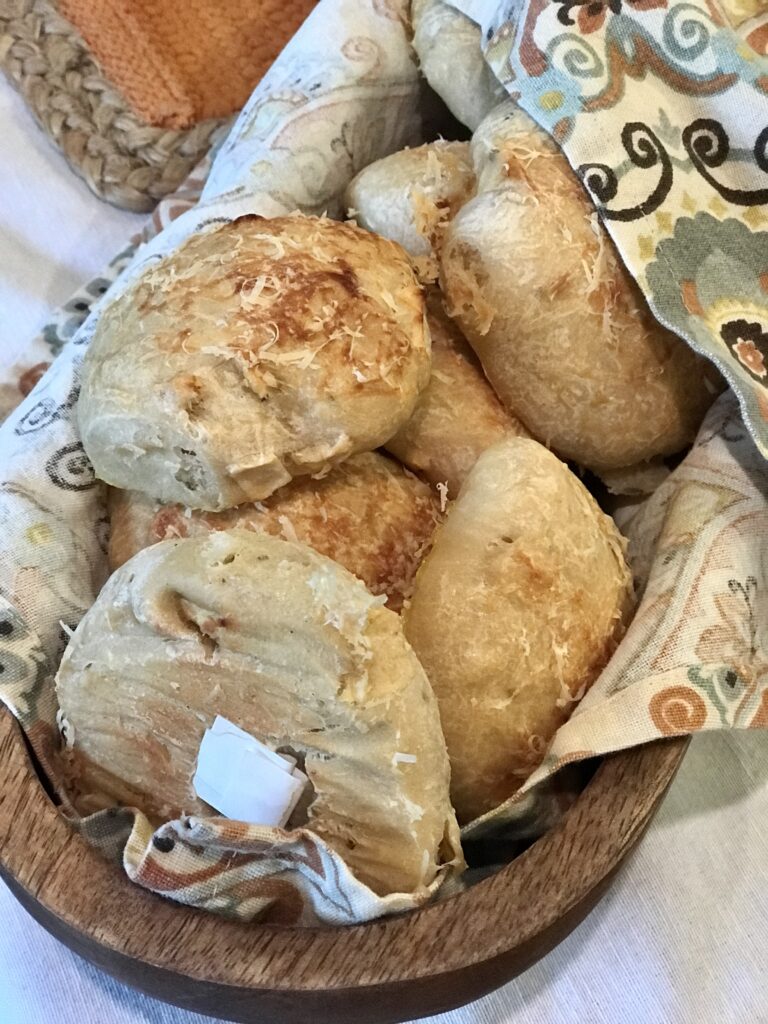 Surprise Surprise
This post is dedicated to my Mother-in-law, Jan (aka Banka), who I think is a creative genius. Family means the world to her, and she always has some creative way of expressing her love for us. When we lived in South Carolina, we always celebrated our Thanksgivings together. Banka loved bringing the dinner rolls.
Normally, I am not necessarily a fan of dinner rolls, especially at a big feast when I know we are already serving twelve sides and a turkey. Dinner rolls always seemed to be a filler food to me; not worth the effort or the carbs. But, one year she surprised us and took her game up to a whole other level. She was playing with the big dogs now. When it came time to pass around the dinner rolls, Banka had a cheeky grin on her face…like she was going to burst with excitement. The family grabbed their rolls and started conversing as normal when gasps started erupting from around the table.
"Mom! My roll has paper in it," laughed my husband, thinking she must have baked in the butter wrapper by accident.
"Mine too!" one of the children cried out.
Now we were a little concerned until one of the papers was unfolded. On a thin strip of paper, kind of like a fortune in a fortune cookie, were the words, "You are blessed with every spiritual blessing in the heavenly places in Christ." Ephesians 1:3b. Wait. What? All of a sudden, I was a dinner roll connoisseur. I reached for a roll and unwrapped mine. "He chose you before the foundation of the world, that you should be holy and without blame before Him in love." Ephesians 1:4. Excited screams erupted all around the table as people began to read and internalize the truth of the prophetic words they were reading.
Talk about a Thanksgiving perspective. It was the highlight of the Thanksgiving table. Hence, I now make Prophetic dinner rolls for Thanksgiving or Easter. That moment was a moment I will forever cherish and Prophetic Dinner Rolls will always remind us of Banka and her love for her family.
Not All Dinner Rolls are Created Equal
If I am going to consume bread at dinner, it has to be seriously amazing, unique, or part of the meal. For example, Chili and Cornbread or Savory Beef Stew with Horseradish Cream Sauce over toasted peasant bread. Sourdough is always my go-to, and with my new favorite bread cookbook, Artisan Sourdough Made Simple by Emilie Raffa, creator of the very popular blog, The Clever Carrot, I am finally learning to master sourdough.
My favorite dinner roll is an adapted version of her Blistered Asiago Rolls with Sweet Apples and Rosemary on page 108 of her book. I love apples and rosemary together, so I thought I would make them this year for our Prophetic Dinner Rolls. That's the fun thing about Prophetic Dinner Rolls. It's not so much about the recipe as it is about the tradition.
Let Your Rolls Speak
What a great way to speak words of life and encouragement over your family. With just a little bit of effort and creativity, any dinner roll can be a conduit for transforming the atmosphere into a flood of JOY and celebration. It kind of gives the phrase "Pass the bread, please," a whole different meaning. The following are some ideas of what you can put on your little strips of paper to be folded and baked on the underside of your favorite dinner rolls.
Prophetic words or Declarations
Scriptures
Compliments
Words of Encouragement
Favorite Quotes
Things you are thankful for
Specific words you want to say to specific people (make sure you mark them and place that roll at their spot).
Clues, such as What am I? Everyone at the table can have a different part of the riddle and you all have to solve it together.
Conversation Starters
Surprise Announcements ("It's a Girl/Boy!" or "I Got the Job!"or "We're Going to Disneyland!" etc.)
Unscramble the phrase- everyone has a different part of a phrase or saying and you have to work together to put it in order.
12 Days of Christmas- Sing the song together with each one singing the part that they got in their roll.
Preparations for the Sourdough Apple & Rosemary Dinner Rolls (adapted version)
Recipe
For the Dough:
50 g (1/4 cup) bubbly sourdough starter
350 g (1 1/2 cups plus 2 T) warm water
500 g (4 cups plus 2 T) bread, all-purpose or Einkorn flour (plus extra for shaping into dough)
9 g (1 1/2 tsp) salt
Sadly, I struggled with my bread baking until I took a bread making class at one of our local farms. Shot out to Bobolink Farms in Milford, New Jersey. If you are in the area, Nina's bread making class was phenomenal. Anyway, I learned the importance of using a scale to measure out my ingredients. There are too many variables with ingredients when it comes to baking. For instance, the kind of flour you use or how you scoop it up. Is it packed down or loose? That makes a difference as you will see when you start using a scale. Making a pot of chili with a little of this and a little of that is one thing, but baking, especially bread, is more precise.
Begin with a Bubbly Starter
Your sourdough starter is also an important factor. It needs to be really bubbly. When the bubbles start to pop and the starter starts to sink on the sides, then you know it is getting hangry. Essentially, you want a happy starter that is full of bubbles and lift. Don't we all like to be fed and appreciated? Remember to replenish your starter with flour and water after you have removed your 1/4 cup. We must always keep our starter happy and fed.
Make sure your water temperature is warm and not hot. You don't want to kill your starter, but rather incorporate it in a warm bath, 105-115 degrees Fahrenheit (what you would comfortably wash your hands in).
When making the dough, I place a mixing bowl on the scale and zero out or "tare" the weight of the bowl. This way you are only weighing the ingredients. If you want to "tare" the scale with each ingredient addition, you can. Or you can just add up the grams. You will have a total of 909 grams in your mixing bowl after adding all the ingredients (not including the apples and rosemary).
Add your bubbly starter and warm water and gently stir. Incorporate the flour and salt and mix with a wooden spoon and then use your hands until a rough dough is formed. You don't want it to be soupy or clinging to the sides of the bowl in a blob, but it will be sticky. Add flour if you need to. (See pictures above). Let it rest for 30 minutes covered with a damp towel. In the meantime, soak your apples in warm water to reconstitute and then drain and squeeze out any remaining liquid.
Adding the Apples and Rosemary:
80 g (3/4 cups) chopped dried apple rings
1 g (2 tsp) chopped rosemary
Using dried apples, like you would raisins, concentrates the apple flavor, holds its form better, and doesn't add water weight to your dough. You could use fresh apples, but you would have to sauté them first to remove moisture content and cool them to room temp. You can rehydrate my Sweet & Sour Apple Rings to use in this recipe. They worked perfectly.
After your dough has taken it's cat nap, add the apples and chopped rosemary and form into a ball. Place in an oiled bowl and cover with plastic wrap. Set in a warm spot (about 70 degrees). Let dough double in size for about 8-12 hours.
When it has doubled in size, you can either roll them into balls for the second rise, or cover the bowl in plastic wrap and set in the refrigerator until you are ready to roll (pun intended:))
Pulling it All Together and Topping it Off
1 egg plus 1 T filtered water for an egg wash
220 g (1/2 lb) wedge of Asiago, white cheddar, or parmesan cheese
When orchestrating a meal like Thanksgiving, it is nice to know that this dough holds up well in the refrigerator if you want to prepare it ahead of time. You want your rolls to be served warm with melted butter, but who has time on Thanksgiving day to make scratch sourdough rolls? You do, if you do all the time consuming prep work ahead of time.
On Thanksgiving day, just pull your dough out of the refrigerator and divide the dough into twelve equal parts. Place the prophetic words that you have cut into thin strips and folded, on the underside of the roll. Don't bury your paper words in the dough or they may not unfold. The bottom of the dough is a bit sticky so it will stay in place.
Prepare the egg wash and baste each roll and sprinkle with shredded cheese. Cover and set in a warm place for the second rise. I place my rolls in my dehydrator on the bread rise setting. I don't know where I would be without my Excalibur Dehydrator. It sometimes works harder than me..Not! Now there's a throwback word from the 90's.
Check Out These Related Posts:
Shop This Post
Excalibur Dehydrator (I use this for everything from dehydrating herbs and spices, fruits & veggies, culturing yogurt, making beef jerky, rising bread dough, and making my famous raw chocolate coconut macaroons).
Ozeri Pronto Digital Kitchen Scale
Artisan Sourdough Made Simple by Emilie Raffa (favorite sourdough cookbook)
Flour Sack Towels (for covering dough)
Bobolink Dairy Farm Bread Making Classes