Voulez-Vous! Do you want to throw the party of your dreams? Creating a Mamma Mia-themed party, complete with all the Grecian details, will make you a Super Trouper with all your friends and family.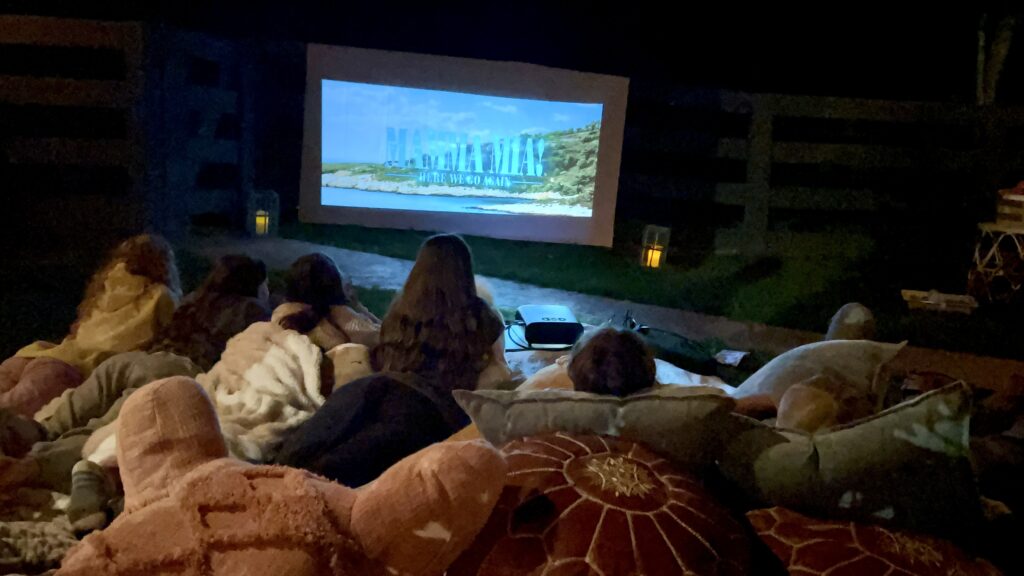 Putting a party like this together is a group effort. Mom, you are amazing. Everyone knows it. But the best thing we can do for those around us is to impart all our brilliance, or discover the brilliance in others, by involving the whole family or your besties in the process. Fortunately, you don't have to be a Super Trouper all on your lonesome.
Mamma Mia! Delegating is The Name of the Game. Honey, Honey, gone are the days of just mom doing all of the work, arriving exhausted and disheveled to the party, serving single-handedly, and leading up the cleanup crew of Me, Myself, and I. No way! When All Is Said and Done, The Winner Takes It All, so make sure you are the winner. This is just as much a party for you as it is for everyone else. So, send out your SOS to your besties and make this a special occasion that won't be Slipping Through Your Fingers.
Party Planning is The Name of the Game
Nothing focuses the mind like the last minute.

Sophie Sheridan
I Have a Dream. Do you have a dream of the perfect party? If your answer is I Do, I Do, I Do, I Do, I Do, then you need to know that the party starts in the months previous when all the gathering, planning, and preparing are going on. As a result, the culmination is just the final act, the celebration of all the fun you have had preparing. Furthermore, putting on a party like this doesn't have to cost a lot of Money, Money, Money. With a little creativity, and a whole lot of Knowing Me, Knowing You, you can pull off the party of the year. Kristen Maple, Thank You for the Music and for allowing me the opportunity to participate in this amazing affair and blogging about it. You truly are a Dancing Queen!
Ultimately, being a detailed person, when I plan a party or help out a friend with theirs, I like to start with an idea and let it evolve by rallying a party crew and brainstorming together. Usually, I start by scanning Pinterest boards, searching Youtube videos, or asking around. First, I take a little of this and a little of that to form the vision for the project. Second, I pull together all the talents and gifts around me. Finally, I set everyone to work in areas that they choose. Take your time and enJOY the process. After all, you don't want a party to do you in and become your Waterloo when it is supposed to be a fun occasion for all.
Creating the Perfect Mamma Mia Atmosphere
This Mamma Mia party was executed by my friend, Kristen, for her daughter's 11th birthday. She is brilliant and creative and because of this, she needed a team to execute all that brilliance. Thankfully, she asked for my help and I became her sous chef, so to speak. Of course, with it being a Mamma Mia theme, I was happy for her to Take a Chance on Me. Ultimately, we were a great team!
Mamma Mia is all about creating the mood of a Grecian paradise. A great atmosphere would be anything in close proximity to water such as a pool or the ocean. In our case, we took advantage of the beautiful sunset to embellish our theme.
Table Decorations and Place Settings
The table was the most stunning of all the decorations. Links to all the plates, napkins, glasses, flatware, candles, and holders are below. In hindsight, although the brass candle sticks were gorgeous, I think for outdoor use I would recommend using hurricane candle holders instead to block the wind. The tapers made quite a mess when lit. At least a hurricane would allow the candles to burn down slower and cleaner. BUT… the table in blue against the sunset backdrop took my breath away.
Fresh flower arrangements using fresh eucalyptus, pink azaleas, white hydrangeas, and purple butterfly bush brought a natural beauty and color to the Mamma Mia party setting. Trader Joe's has great prices and a nice selection of flowers if you don't have access to fresh-cut flowers from your yard.
Furthermore, pillows were purchased from Marshalls/Homegoods and the chargers were borrowed from a friend. Additionally, the center table runners as well as the sheers around the photo booth were a dusty blue cheesecloth fabric that came in a six-pack.
Photo Booth Backdrop
There's an island, Kalokairi. People used to think if you sailed on from there, you'd fall off the edge of the world. That sounds like the place for me.

Donna Sheridan
These days, you most likely will find a photo op at every party creating the perfect themed backdrop for all your iPhone selfies and group shots. This beautiful Greece Themed Photo Backdrop was purchased from Amazon. We added a dusty blue cheesecloth table runner on each side to fill in some color as well as strands of silk bougainvillea to try and hide the clips and add a pop of pink.
Costumes
Does anyone else still love dress-ups? Personally, I think costumes are the best part of a party. Hey, how about a little costume contest to inspire your guests to participate? I never grew out of my love for dress-ups. Every year for my husband's birthday we host a murder mystery party complete with costumes. All our friends look forward to this annual costume party as it has become a highlight on the calendar.
Mamma Mia just happens to be the most diverse and fun theme, especially in the summer months. If you love the Bohemian look, you will love to dress up for Mamma Mia. You can choose everything from overalls and cutoffs to Super Trooper "Donna and the Dynamos" disco. A simple Mamma Mia costume search on Amazon will yield a treasure trove of ideas as well as this fun video on Mamma Mia costume inspiration.
Oyster Shell Decoupage Craft
The girls had a blast creating these beautiful Decoupage Oyster Shell Trinket Dish Crafts. With not a lot of pre-planning, the end product was a craft they could take home and be proud to display. They were beautiful as well as useful and they fit the theme perfectly as well.
Set up a craft table and cut up some grocery bags or lay out the backside of old Christmas wrapping paper for protection. Add some gold paint, decoupage glue, water bowls, brushes, oyster shells from the fish market, and a beautiful potted plant or vase of flowers as a centerpiece. Flowers were a big theme in the Mamma Mia movies.
The Food
Being a grudge holder makes you fat.

Ruby Sheridan
The food is always a fun way to tie in the party theme. Mamma Mia takes place in the beautiful Greek Islands, so what better party food than Flank Steak Gyros with Tzatziki Sauce? Not only are Gyros super easy with not a lot of hands-on time, but they are fun for big crowds, create a beautiful color presentation, and taste incredibly yummy!
We also had a bowl of sliced watermelon with mint, a fruit and nut board, and a tropical punch in the beverage dispenser. A meat, cheese, olive, and cracker board as well as popcorn were reserved for movie time as well as a S'mores station around the fire pit. Fun foods create the perfect party atmosphere and add the perfect creative touch.
The Cake
Gimme! Gimme! Gimme some cake! We wanted to create a cake that reminded us of jumping into the beautiful azure waters of the Mediterranean Sea. In order to get this layered look I followed an Ombre cake design tutorial that allowed me to get that faded watercolor look.
Additionally, we wanted to tie the theme in and add a pop of dramatic color, so we added some fresh eucalyptus leaves from the flower arrangements and a few cuttings of the silk bougainvillea that we had above the photo booth backdrop. It turned out so beautifully, especially with the sunset backdrop.
Dancing Queen Party Favors
What is a party without party favors? These little Dancing Queen Makeup Bags were perfect for the 11-14 age group. Adding some funky sunglasses, lip gloss, gum, hair scrunchies, a small notebook, and a pen was a fun and practical touch.
The Name of the Game is FUN
Outdoor Theatre, Mamma Mia Style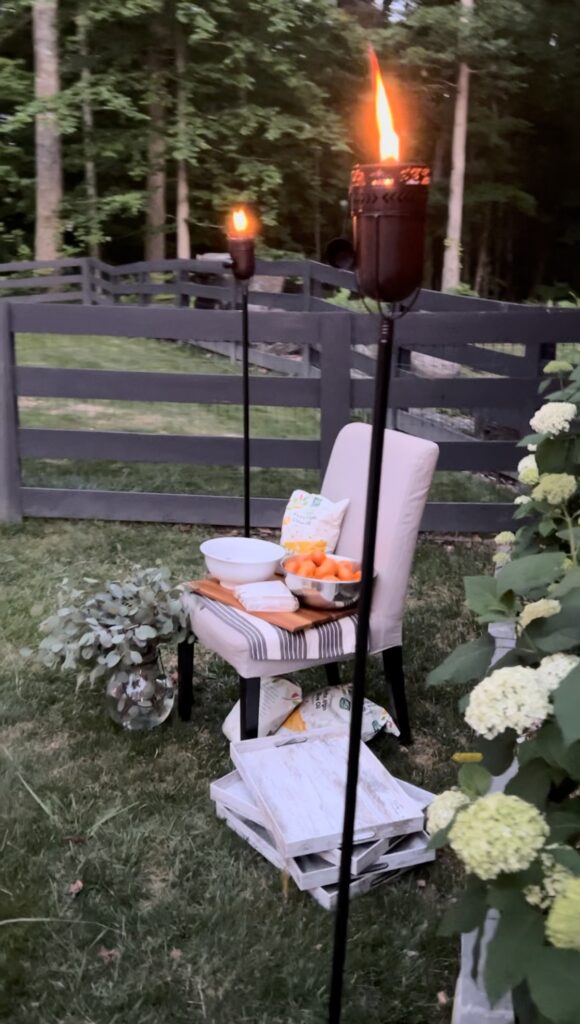 Of course, you are going to want to play the movie at your party. So what better way than an outdoor theatre? Gather fun pillows, quilts, and tiki lamps with citronella fuel to chase away the bugs as well as a popcorn/snack station for those movie munchies.
The kids sprawled out on the pillows and blankets and the moms sat back in Adirondack chairs and blankets. Really, this was a highlight of the evening. Kristen purchased a screen and projector on Amazon for outdoor movies all summer long. Two days later, us working moms, as a thank you to ourselves for putting on such an amazing party, popped on over to Kristens and had a girl's movie night to ourselves complete with blankets and snacks and of course Popcorn.
May the best of our lives be the best of our lives.

Tanya Chesham Leigh
Kisses of Fire and S'mores at the Fire Pit
Do what makes your soul shine.

Rosie Muligan
Not only will a fire pit offer an amazing atmosphere, but much conversation and connection happen around a campfire. And S'MORES! Who doesn't love a gooey, golden-hot marshmallow, dripping with chocolate, encased in a crunchy graham cracker sandwich enJOYed fireside? Create some fun by having a stick search around the yard to find the perfect marshmallow roaster. Or purchase Marshmallow Roasting Sticks, or Retractable Roasting Sticks online. Don't forget a s'more board or caddy complete with marshmallows, chocolate bars, and graham crackers. Additionally, make sure and have the logs and kindling set up as well as matches ready.
Mamma Mia Trailer Parts 1 and 2 on Youtube
Endless Creativity Awaits You
I don't know what my future holds, but life is short, the world is wide, and I want to make some memories.

Donna Sheridan
Additional Ideas…
Now granted, we did not have karaoke or a talent show because we had a more introverted crowd, but if this were a bigger party, or even for an older crowd, including karaoke or a talent show or going all out with an ABBA tribute band would be over the top on the FUN meter. At the very least, have the soundtrack playing throughout the evening. You can find it on Youtube or Spotify. It is the perfect summer soundtrack…especially while driving in the car with the windows down. You too will say, Thank You For the Music.
To my friend Kristen Maple. We had so much fun, didn't we? Never once did I ask Why Did It Have to Be Me. In fact, here's to all the parties in our future; this is definitely not Our Last Summer. When All is Said and Done, two of us are better than One of Us. Plus you've got those Angel Eyes that I could not refuse. I've Been Waiting For You to ask me to join you in creating these amazing affairs so I could blog about them. You truly are a Dancing Queen! P.S. What is When I Kissed the Teacher about anyway? Does Your Mother Know?
Pin for Later
Shop This Post:
Coterie blue floral paper plates for cake
Glasses: these were a little fragile but pretty.
Dusty Blue Cheesecloth Table Runner 6 pack
Dancing Queen Makeup Bag Party Favor
Gold Paint for oyster craft
Water Dipping Sauce Bowls set of 6
Oysters were ordered as an appetizer at a restaurant and they kept the shells…brilliant!
Outdoor Movie Projection Screen
Check Out These Other Fun Party Themes from Our Last Summer